Fears of Radioactive Discharge Following Release of Photographs of Sellafield - 31st October
Previously unseen pictures of two storage ponds containing hundreds of highly radioactive fuel rods at the Sellafield nuclear plant show cracked concrete, seagulls bathing in the water and weeds growing around derelict machinery.
A spokesman for owners, Sellafield Ltd, said the 60-year-old ponds will not be cleaned up for decades, despite concern that they are in a dangerous state and could cause a large release of radioactive material if they are allowed to deteriorate further.
The images, taken over a seven year period and are said to show two ponds that were commissioned in 1952 and used until the mid-1970s as short-term storage for spent fuel until it could be reprocessed, producing plutonium for military use.
"The concrete is in dreadful condition, degraded and fractured, and if the ponds drain, the Magnox fuel will ignite and that would lead to a massive release of radioactive material," nuclear safety expert John Large told the Ecologist magazine.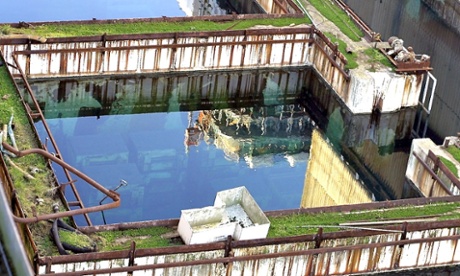 The government is paying private companies £1.7bn a year to decommission ageing buildings at Sellafield.
To see more of the images taken at Sellafield, and the full story, please click HERE.